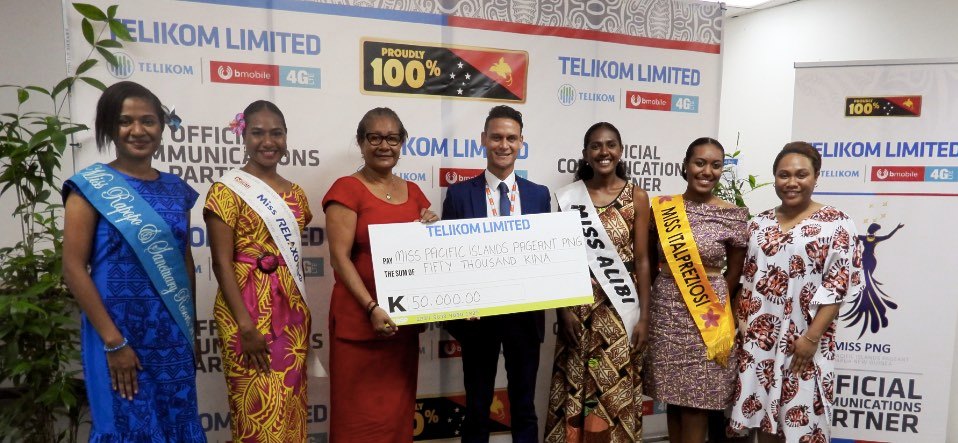 Telikom becomes official communications partner to MPIP
Telikom, through its mobile business arm, bmobile, has been a loyal supporter of the Miss PNG Pacific Islands Pageant (MPIP) over the last 7 years.
This year, Telikom renews its support to MPIP as Official Communications Partner. The sponsorship, worth over K100,000, will see K25,000 in cash go directly towards MPIP's Scholarship Fund to assist young female students in STEM institutions. A further K25,000 will go towards assisting MPIP with its operational expenses.
Complementing the K50,000 in cash, a further K50,000 worth of in-kind support will go towards supporting a range of MPIP's operational needs. This includes provision of the ever popular SMS Voting Platform to determine the "Miss Telikom People's Choice Winner", as well as SMS Blasts to assist in generating awareness of the events throughout the remainder of the 2022 Calendar. Finally, a number of tablets and devices will be provided to support the organizing committee as well as merchandise support.
As PNG's proudly 100% PNG-owned Telecommunications company, Telikom is proud to support the development of female professionals in STEM-related fields. The company already employs female staff in fields such as IT and Engineering and is keen to see many more women take their place in what have been largely male-dominated fields.
IMAGE CAPTION: Telikom's Head of Sales & Marketing, Nathaniel Lepani (centre), presents a mock cheque for K50,000 to MPIP PNG Chairperson, Molly O'Rourke